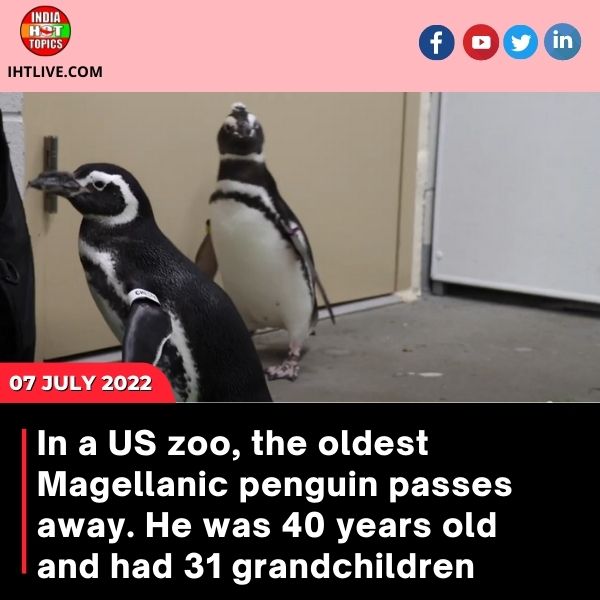 In a US zoo, the oldest Magellanic penguin passes away. He was 40 years old and had 31 grandchildren
The oldest Magellanic penguin in human care in the entire world, which was housed at the San Francisco Zoo & Gardens, passed away on Wednesday at the age of 40, according to the zoo.
The male, known as Captain Eo, was believed to be well past the species' typical life expectancy of 20 to 30 years, according to a statement from the zoo.
Captain Eo, the last surviving original member of the zoo's Magellanic penguin colony, was named after a Michael Jackson short film from the 1980s that was a Disneyland attraction.
The zoo claimed that the elderly animal required special feeding methods because he had significantly lost his hearing and eyesight.
The Magellanic penguin is a South American native. They can reach heights of over two feet (60 centimetres) and weigh up to 14 pounds (6.4 kilograms).
When 52 wild Magellanic penguins were introduced to the zoo in 1984 to establish a colony on Penguin Island, a facility that features a sizable outdoor pool as well as burrows and rocky terrain to resemble their original habitat, the zoo declared Captain Eo arrived there.
The character of Captin Eo was that of "an elderly intelligent gentleman, "The statement was made by Quinn Brown, the zoo's assistant curator of birds.
He refrained from engaging in the customary mischief of robbing others of their fish or forcing his way through the mob in search of fish. Instead, he would wait patiently and silently on the rocky shore for his turn to eat, then go swimming or home "Black added. He was unique in every way.
The zoo said that Captain Eo had 26 children, 31 grandchildren, and 8 great-grandchildren. Many are found in different zoos and institutes across the nation.
While we will never again have the privilege of hugging and bonding with Captain in this way, Brown said, "he will always have a significant place in our hearts." He stood for a crucial period in the history of the San Francisco Zoo and the penguin community.
Group Media Publications
General News Platform - IHTLive.com
Construction Infrastructure and Mining News Platform - https://cimreviews.com/
Entertainment News Platforms - https://anyflix.in/
Legal and Laws News Platforms - https://legalmatters.in/
Podcast Platforms - https://anyfm.in/