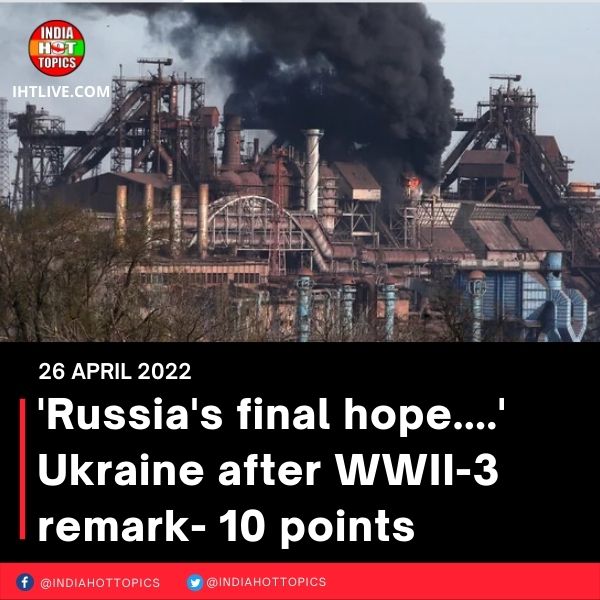 'Russia's final hope….' Ukraine after WWII-3 remark-10 points
Here are the 10 latest developments of Russia's invasion of Ukraine:
1. The third round of talks with Ukraine were focussed on opening humanitarian corridors from Ukrainian cities under fire.
2. Kyiv's presidential advisor Mikhailo Podolyak, however, indicated that there was some progress,
3. Earlier today, Ukraine rejected a Russian plan for a humanitarian corridor to Kyiv, Mariupol, Kharkiv and Sumy to Russia and Belarus. Russia also said it would begin airlifts to take Ukrainians from Kyiv to Russia.
4. Ukraine called the plan an "unethical stunt".
5. The mayor of Sumy, Alexander Lysenko with the commander of the national battalion, has announced that there "will be no green corridors, not a single civilian will go to Russia, and those who try to do this will be shot."
6. Russia announced a ceasefire in Kyiv, Kharkiv, Mariupol and Sumy from 12.30 pm IST on Monday. But this too fell through after Ukraine rejected the corridor plan.
7. Earlier today, PM Modi spoke to President Putin of Russia and President Zelensky of Ukraine. Government sources said PM Modi has urged President Putin to hold direct talks with President Zelensky, in addition to the ongoing negotiations between their teams. Mr Putin had earlier said that he would achieve his goals in Ukraine "through negotiation or through war".
8. PM Modi had also stressed on the importance of safe evacuation of Indian citizens from Sumy at the earliest. President Putin had assured PM Modi of all possible cooperation in their safe evacuation, government sources said.
9. The United Nations' top court is hearing Ukraine's appeal for an emergency ruling requiring Russia to stop its invasion. Kyiv lodged the urgent case on February 27, saying Russia had illegally justified its war by falsely alleging genocide in Ukraine's Donetsk and Lugansk regions. Russia has declined to attend the hearing.
10. Russia's invasion of Ukraine, now in its twelfth day, has seen more than 1.5 million people flee the country in what the UN has called Europe's fastest-growing refugee crisis since World War II.