Three bullets were removed from my right leg, they said. Imran Khan, a former Pakistani premier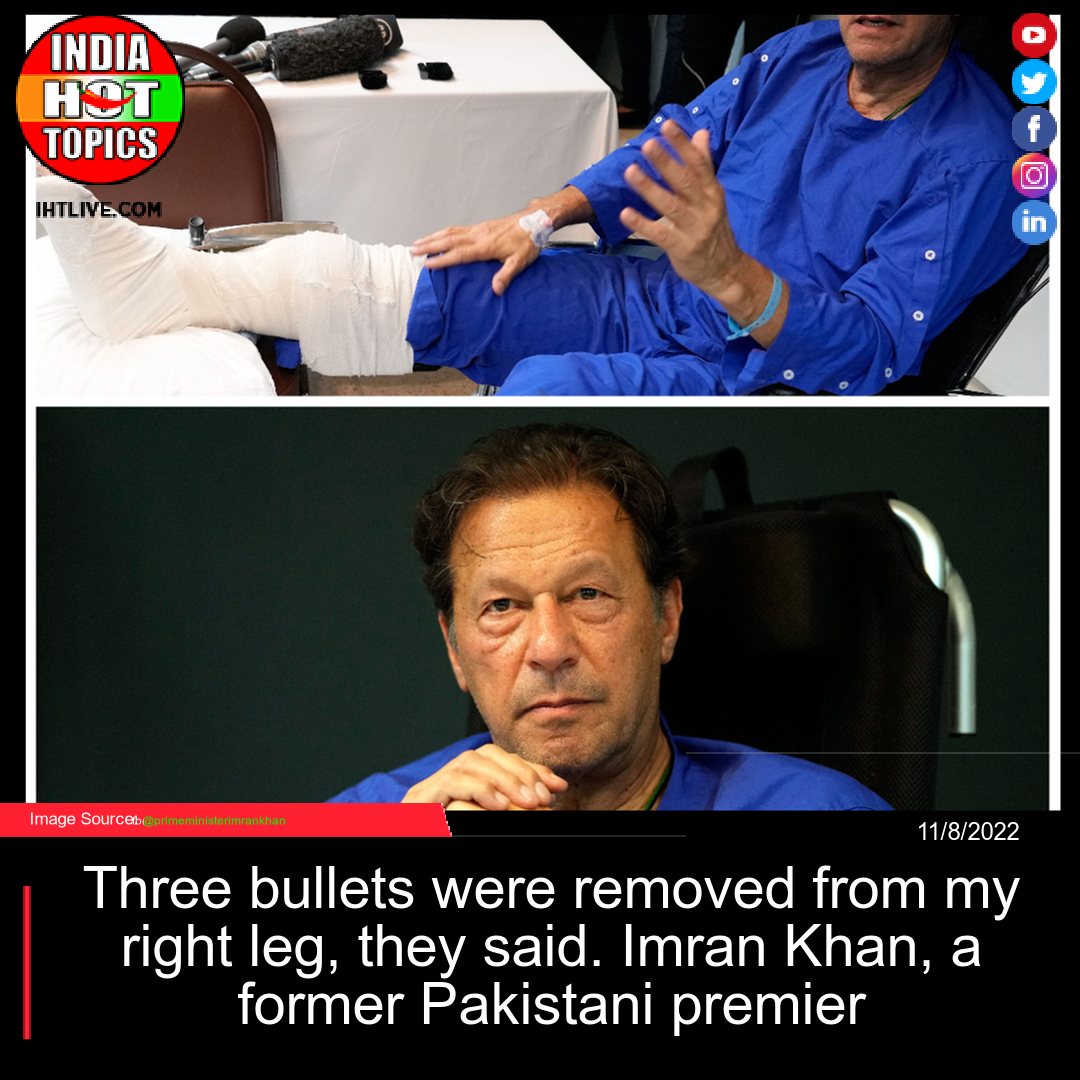 Imran Khan, a former Pakistani prime minister, said on Monday that he was attacked at a political gathering in Gujranwala and had three bullets removed from his right leg.
These statements were stated by the leader of the Pakistan Tehreek-e-Insaaf while speaking to CNN's Becky Anderson in an exclusive interview from his home in Lahore's Zaman Park.
"Three bullets were removed from my right leg by them. The left included some shrapnel that was left inside "Imran Khan was reported by CNN as stating.
When questioned about the information he had obtained and from whom, he responded that he had obtained it from the intelligence agencies.
"I was in charge for three and a half years, in case you forgot. I am connected to the many intelligence agencies that are in operation "explained he.
In his interview with CNN, Imran Khan also asserted that the entire assassination plot against him was hatched two months prior, according to a report on Monday by ARY News.
"It all began when I was removed from office, and from that point on, it was predicted that my party would break apart, but what occurred instead was that there was a strong public response and my party gained great popularity," he stated.
According to Imran Khan, the current administration organised the attack on him and wanted to demonstrate that a "religious fanatic committed it," according to ARY News.
"It was a deliberate effort at assassination. I announced in advance that this would occur and issued a warning "Added he.
Imran Khan wrote President Arif Alvi a letter earlier on Monday, pleading with him to take action against "abuse of power and infringement of laws and the Constitution."
"The law of the land cannot be disregarded by anyone or any government entity. We have witnessed widespread abuse of citizens at the hands of rogue State organisations, including torture in detention and kidnappings that were all done with impunity. Since you hold the highest office in the government, I'm asking you to take immediate action to end abuses of authority and violations of the law and the Constitution, which guarantees every citizen's fundamental rights "Khan addressed Alvi in a letter.
Imran Khan was wounded by bullets in his legs on Thursday while participating in a long march in Wazirabad. He was taken to a hospital for treatment after suffering injuries to his leg.
When he was attacked in Wazirabad, Khan was leading the PTI's march towards Islamabad. 13 people were hurt in the attack on Thursday, according to Geo News. (ANI)
Group Media Publications
General News Platform – https://ihtlive.com/
Entertainment News Platforms – anyflix.in
Construction Infrastructure and Mining News Platform – https://cimreviews.com/
Podcast Platforms – https://anyfm.in/