Elin Electronics had a disappointing launch and lists 2% below issue price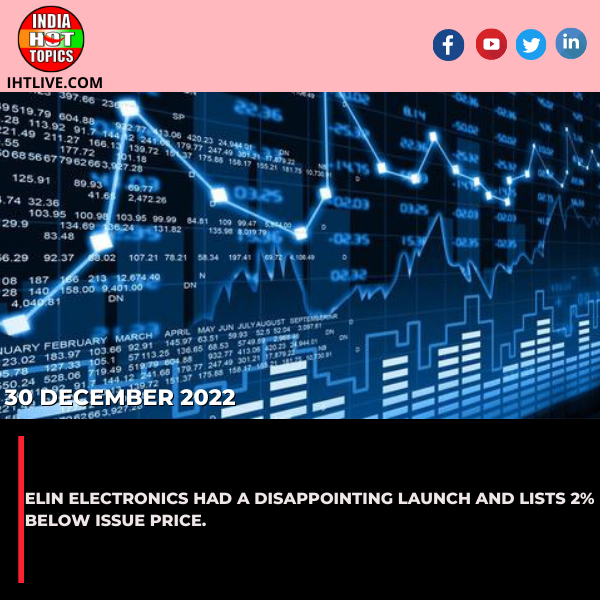 Elin Electronics (Elin) had a lacklustre stock market debut, listing its shares on the BSE on Friday at Rs 243, a 2% discount to its issue price of Rs 247 in an otherwise strong market. On the National Stock Exchange, the stock of a company that manufactures appliances began trading at Rs 244. (NSE).
Following the listing, Elin's market price fell to Rs 235.25, a 5% decline from its issue price. In the current intraday trade, it reached a high of Rs 245. The stock was trading at Rs 236.25 at 10:20 AM, a 4% decrease from the opening price. The S&P BSE Sensex, in contrast, was up 0.17 percent at 61,235.
Elin works for an EMS company, or electronics manufacturing services. It is a manufacturer of small/kitchen appliances, lighting, fans, and fractional horsepower motors for popular Indian companies. Elin produces and assembles a variety of goods. Both the original design manufacturer (ODM) and original equipment manufacturer (OEM) business types are supported by it.
As of FY21, the company has a market share of 10% for small appliances, 12% for fractional horsepower motors, and 7.2% for LED lighting & flashlights.
Elin offers a wide range of products to meet the needs of its clients. This has enabled the business throughout the years not just increase its market share, but also its share of existing consumers' wallets. As a result, the revenue increased at a CAGR of 18% between FY20 and FY22. With the help of cost-cutting initiatives, the addition of new product categories, and a greater emphasis on high margin ODM business, Elin has maintained its EBITDA margin in the range of 7-8% over FY20-22. Additionally, PAT grew at a CAGR of 19% in FY20-22 underpinned by greater EBITDA, according to an IPO letter from ICICI Securities.
One can invest in the initial public offering (IPO) for the long term because Elin is one of India's top producers of fractional horsepower motors and a leading electronics manufacturing services (EMS) provider for major brands of lighting, fans, and small/kitchen appliances. Additionally, they are one of the major players in the LED lighting and flashlight sectors, with an EMS market share of roughly 7% in FY2021, and in the small appliances sector, with an EMS market share of 10.7% in FY2021, according to Prabhudas Lilladher Advisory Team's IPO report.
The company has a broad range of products and a solid clientele that includes Phillips, Bosch, Usha, Panasonic, and others. Out of their top 20 clients, 11 have been their clients for more than ten years, and 16 have been clients for more than five. According to the brokerage firm, the company's one-stop-shop facilities and continual upholding of high standards of manufacturing quality of items in a timely manner are responsible for their great client retention capabilities.
Group Media Publications
General News Platform – https://ihtlive.com/
Entertainment News Platforms – anyflix.in 
Construction Infrastructure and Mining News Platform – https://cimreviews.com/
Podcast Platforms – https://anyfm.in/