President of Taiwan's statement to the military following China's military operations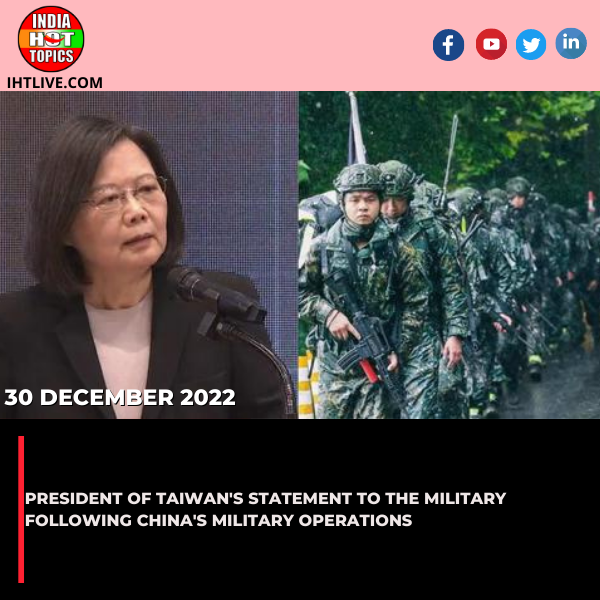 Following China's record-breaking deployment of aeroplanes and ships this week toward Taiwan, Taiwan President Tsai Ing-wen praised army and navy servicemen on Friday for their assistance in defending the island.
Tsai declared that China's military exercises earlier in the week were the biggest ones so far this year while speaking to the 146th Fleet of the Taiwanese Navy at a naval facility on Penghu Island.
"I wanted to thank you, our military brothers and sisters, for your hard work, even though your duty is quite heavy, "She spoke. "Taiwan is a democracy's front line. We can only prevent war if we are equipped to wage it, and we can only do so if we have the means to do so."
The Communist Party's People's Liberation Army has been sending ships or planes toward the island on a nearly daily basis as part of China's increased military harassment of Taiwan, which it claims is its own territory.
According to Taiwan's Ministry of National Defense, 47 Chinese aircraft flew over the unofficial border that was once implicitly acknowledged by both sides in the Taiwan Strait in a 24-hour period between Sunday and Monday.
In August, after U.S. House Speaker Nancy Pelosi visited the island, China launched missiles into the water and sent planes and ships across the line dividing the Taiwan Strait, escalating tensions.
Tsai has actively worked to improve the island's military and defensive capabilities in response, reviving its shipbuilding sector and actively acquiring weaponry from the United States. She declared on Tuesday that starting in 2024, the length of the mandatory military duty would increase from four months to one year.
In her speech to the troops on Friday, Tsai addressed that action and promised that Taiwan will similarly upgrade the training of current service members. Currently, Taiwan only needs men to serve in the military for four months, which is largely regarded as insufficient for the island's defence. The new year-long required duty, according to her, wouldn't be a "waste of time."
Tsai travelled to Penghu, an archipelago of several dozen islands off the western coast, where she was stopped by both an army and a naval facility. The waters near Taiwan are actively patrolled by the 146th Fleet.
Group Media Publications
General News Platform – https://ihtlive.com/
Entertainment News Platforms – anyflix.in
Construction Infrastructure and Mining News Platform – https://cimreviews.com/
Podcast Platforms – https://anyfm.in/