India's resistance to Modi's inauguration of the new parliament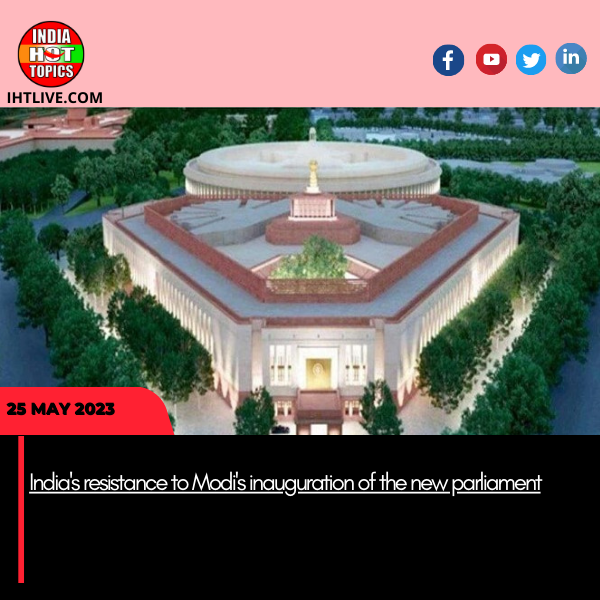 India, the world's largest democracy, has long been a nation known for its vibrant political landscape and passionate citizenry. However, in recent years, the country has witnessed a rising tide of resistance to the government led by Prime Minister Narendra Modi. The inauguration of the new parliament under Modi's leadership has become a focal point for dissent, as many voices within the nation express concerns over the erosion of democratic values and the concentration of power. In this blog, we delve into the reasons behind India's resistance to Modi's inauguration of the new parliament and explore the implications for the nation's democratic fabric.
Concentration of Power:
One of the key concerns voiced by those resisting Modi's inauguration is the perceived concentration of power within the government. Critics argue that under the Modi administration, decision-making authority has become increasingly centralized, leading to a weakening of democratic institutions and processes. The dominance of a single party in the political landscape, coupled with the prime minister's strong leadership style, has raised questions about the checks and balances necessary for a healthy democracy.
Suppression of Dissent:
India's resistance to Modi's inauguration also stems from a perceived suppression of dissent. The government has faced criticism for its handling of civil liberties, including curbing freedom of speech, press freedom, and stifling of dissenting voices. The arrest of activists, journalists, and intellectuals has been met with widespread condemnation both within India and internationally. Many argue that these actions undermine the democratic principles of open dialogue, transparency, and the right to express dissenting opinions.
Polarization and Divisive Politics:
Another factor contributing to India's resistance to Modi's inauguration is the increasing polarization and divisive politics witnessed in recent years. Critics argue that the government's rhetoric and policies have exacerbated communal tensions and deepened societal divisions. The rise of identity politics, coupled with incidents of hate crimes and discrimination, has created an atmosphere of fear and exclusion. The resistance movement perceives these developments as detrimental to India's pluralistic ethos and democratic ideals.
Socioeconomic Concerns:
The resistance to Modi's inauguration also reflects the frustration and discontent arising from socioeconomic issues. While the government has introduced various reform initiatives, including the Goods and Services Tax (GST) and demonetization, critics argue that the implementation has had adverse effects on vulnerable sections of society. Issues such as unemployment, agrarian distress, rising income inequality, and the impact of economic policies on marginalized communities have fueled dissent and mobilized opposition.
Threats to Secularism:
Secularism has been a foundational principle of modern India, enshrined in its constitution. However, the resistance movement views the Modi government's policies as threatening this core value. Critics argue that certain actions and policies, such as the controversial Citizenship Amendment Act (CAA) and the National Register of Citizens (NRC), disproportionately target religious minorities, particularly Muslims. This perceived marginalization of specific communities has led to widespread protests and resistance, with concerns raised about the erosion of India's secular fabric.
India's resistance to Modi's inauguration of the new parliament underscores the complex challenges facing the nation's democracy. Critics argue that the concentration of power, suppression of dissent, divisive politics, socioeconomic concerns, and threats to secularism have collectively weakened democratic institutions and processes. However, it is important to note that the resistance movement represents a diverse range of voices with varied ideologies and objectives. As India navigates this crucial phase, it is imperative that the government and citizens engage in constructive dialogue, uphold democratic values, and work towards a more inclusive and equitable future for all. The strength of India's democracy lies in its ability to embrace differing viewpoints and ensure that dissent is not only protected but also valued as an essential component of a robust democratic system.
General News Platform – https://ihtlive.com/
Entertainment News Platforms – anyflix.in 
Construction Infrastructure and Mining News Platform – https://cimreviews.com/
Podcast Platforms – https://anyfm.in/
Tomorrow, PM Modi will officially open IIT Jodhpur.
Paving the Path to Progress: PM Modi to Inaugurate IIT Jodhpur
In a significant step towards advancing education and fostering innovation, Prime Minister Narendra Modi is set to inaugurate the Indian Institute of Technology (IIT) Jodhpur on a momentous occasion tomorrow. This development marks a crucial milestone in the Indian government's ongoing efforts to promote quality higher education and technical research across the nation. In this blog, we explore the significance of this inauguration and its potential impact on India's educational landscape.
IIT Jodhpur: A Hub of Excellence
The Indian Institutes of Technology (IITs) are renowned globally for their academic excellence and contributions to technological advancements. IIT Jodhpur, located in the culturally rich city of Jodhpur in the western state of Rajasthan, is the latest addition to this prestigious network of institutions. Established in 2008, the institute has rapidly grown in stature, making significant strides in research and innovation.
Fostering Innovation and Research
IIT Jodhpur has been at the forefront of pioneering research and innovation across various domains. The institute's faculties and students engage in cutting-edge research, ranging from artificial intelligence and robotics to renewable energy and sustainable development. The inauguration of IIT Jodhpur underscores India's commitment to nurturing young talent and promoting research-driven solutions to pressing global challenges.
Empowering Youth: The Role of IITs
For decades, the IITs have played a pivotal role in shaping the future of India's youth. These institutions have consistently produced top-notch engineers, scientists, and entrepreneurs who have made their mark on the world stage. IIT Jodhpur is poised to continue this tradition by empowering students with the knowledge, skills, and resources needed to excel in a rapidly evolving global landscape.
The Vision of a Self-Reliant India
Prime Minister Modi's emphasis on self-reliance and "Aatmanirbhar Bharat" aligns with the goals of IIT Jodhpur. By promoting research, innovation, and technical education, the institute contributes to the vision of a self-reliant India. This vision aims to reduce dependence on foreign technology and foster homegrown solutions to address the nation's challenges.
Fostering Regional Development
The establishment of IIT Jodhpur also holds significant promise for regional development. It serves as a catalyst for the growth of education and industry in Rajasthan and neighboring states. The presence of such a prestigious institution can attract talent and investment to the region, thereby stimulating economic development.
The inauguration of IIT Jodhpur by Prime Minister Narendra Modi is a momentous event that underscores India's commitment to advancing education, fostering innovation, and empowering its youth. The institution is poised to contribute significantly to the nation's technological and economic progress. As the doors of IIT Jodhpur officially open, they reveal a world of opportunities and possibilities for students, researchers, and the nation as a whole. This is indeed a step forward in India's journey towards a brighter and self-reliant future.
General News Platform – https://ihtlive.com/
Entertainment News Platforms – anyflix.in
Construction Infrastructure and Mining News Platform – https://cimreviews.com/
Podcast Platforms – https://anyfm.i
IIT Bombay Slaps Fine Over 'Veg Only' Policy Protest: Students Body
Universities are not just places of education; they are also spaces where ideas are exchanged, opinions are voiced, and societal norms are challenged. Recently, a controversy emerged at the prestigious Indian Institute of Technology (IIT) Bombay when the institution imposed fines on students who protested against the 'Veg Only' policy in the hostel mess. This incident has sparked a debate about freedom of expression and the role of institutions in addressing student grievances.
The 'Veg Only' Policy
The 'Veg Only' policy, which has been in place in some IIT Bombay hostels, restricts the availability of non-vegetarian food options in the mess during certain meal times. The policy aims to accommodate the dietary preferences of vegetarian students. However, it has faced criticism from students who argue that it limits their food choices and infringes on their individual freedom.
The Student Protest
In response to the 'Veg Only' policy, a group of students at IIT Bombay decided to stage a peaceful protest. They believed that the policy should be reconsidered to allow for more inclusivity and choice in the mess. Their protest included distributing pamphlets and engaging in discussions to raise awareness about their cause.
The Fine Imposition
However, the administration's response to the protest took a surprising turn. The institute imposed fines on several students involved in the protest, citing violation of rules related to "misuse of pamphlets" and "distribution of pamphlets without permission." This decision by the administration sparked outrage among students and raised questions about freedom of expression on campus.
Freedom of Expression and Campus Politics
Freedom of expression is a fundamental right that allows individuals to voice their opinions and dissent peacefully. On university campuses, it plays a crucial role in shaping the intellectual and social environment. Students often engage in protests and activism as a means of expressing their concerns and advocating for change.
The Role of Institutions
Universities and institutions of higher learning have a unique role to play in fostering an environment where diverse perspectives are respected and encouraged. While institutions must maintain discipline and order, they should also be open to constructive criticism and dialogue. Punitive actions against students who peacefully express their opinions can stifle this culture of open discourse.
The Way Forward
The IIT Bombay incident highlights the need for a balanced approach when addressing student grievances and protests. It is essential for institutions to engage with students, listen to their concerns, and find ways to address them constructively. Punitive measures, such as fines, should be used sparingly and only when there is a clear violation of established rules.
Furthermore, this incident has drawn attention to the need for a broader discussion on dietary policies in educational institutions. Striking a balance between accommodating dietary preferences and ensuring choice and inclusivity is a complex challenge that requires careful consideration.
In conclusion, the controversy at IIT Bombay serves as a reminder of the importance of protecting freedom of expression on university campuses and the need for institutions to engage with students in a constructive manner when addressing their concerns. It is through open dialogue and mutual respect that campuses can continue to be centers of both education and activism.
General News Platform – https://ihtlive.com/
Entertainment News Platforms – anyflix.in
Construction Infrastructure and Mining News Platform – https://cimreviews.com/
Podcast Platforms – https://anyfm.i
Live Stock Market: Nifty at 19,400; Sensex down 400 points; HDFC Bank up 1%
The stock market, often regarded as a barometer of economic health, never fails to grab the attention of investors and financial enthusiasts. As the trading day unfolds, we bring you the latest live updates from the Indian stock market. Today, the Nifty stands at 19,400, but the Sensex is down 400 points. Amidst the market fluctuations, HDFC Bank is making waves, with a notable 1% gain. Let's dive into the details and explore what's driving these market movements.
Nifty at 19,400
The Nifty 50, an index representing the performance of the National Stock Exchange of India's (NSE) top 50 large-cap companies, is currently standing at the 19,400 mark. This figure reflects the collective performance of these leading companies' stocks and serves as an important indicator of the overall market sentiment.
Sensex Down 400 Points
In contrast to Nifty's relatively stable position, the Sensex, which represents the Bombay Stock Exchange's (BSE) top 30 companies, has seen a decline of 400 points. Market volatility is a common occurrence, influenced by various factors such as global economic conditions, corporate earnings reports, government policies, and geopolitical events. A 400-point drop in the Sensex can be attributed to a combination of these factors.
HDFC Bank's Impressive Performance
Amidst the market's mixed performance, HDFC Bank stands out with a 1% gain. This significant uptick in one of India's leading private sector banks highlights investor confidence in the institution's financial health, management, and growth prospects.
Factors Behind Market Movements
Several factors can influence the stock market's daily fluctuations:
Global Economic Conditions: International economic developments, such as changes in interest rates, inflation rates, or geopolitical events, can have a significant impact on Indian markets.
Earnings Reports: The quarterly earnings reports of listed companies play a crucial role in shaping investor sentiment. Positive results can drive stock prices up, while disappointing figures can lead to declines.
Government Policies: Policies and reforms introduced by the Indian government can impact various sectors of the economy, affecting investor confidence.
Investor Sentiment: Investor behavior and sentiment can trigger buying or selling frenzies, contributing to market volatility.
Investing Wisely in a Volatile Market
For investors, navigating a volatile stock market requires a careful approach:
Diversification: Spread your investments across different asset classes and industries to minimize risk.
Long-Term Perspective: Focus on long-term goals and avoid making impulsive decisions based on short-term market fluctuations.
Stay Informed: Continuously monitor financial news and stay updated on developments that could impact your investments.
Consult Experts: Seek advice from financial experts or advisors who can provide valuable insights based on your financial goals and risk tolerance.
Risk Management: Set stop-loss orders or implement other risk management strategies to protect your investments.
In conclusion, the live stock market updates provided today reflect the dynamic nature of financial markets. While daily fluctuations are a natural part of the stock market, investors can make informed decisions by staying informed, diversifying their portfolios, and maintaining a long-term perspective. The market's resilience and capacity for growth over time make it a valuable tool for wealth creation and financial planning.
General News Platform – https://ihtlive.com/
Entertainment News Platforms – anyflix.in
Construction Infrastructure and Mining News Platform – https://cimreviews.com/
Podcast Platforms – https://anyfm.i